Riddler in Residence - Exeter Cathedral
Multiple Locations
Part Time
see advert details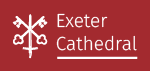 Fee - 22.5 days over 2 months @ £220 per day (including R&D and evaluation) to include at least 10 days direct work with participants = £4,950
Exeter Cathedral, with funding from National Lottery Heritage Fund, is recruiting a writer, poet, storyteller, spoken word artist or lyricist to become the next Riddler in Residence.
This is an exciting opportunity to devise and deliver workshops with community groups and young people to co-create literary work focusing on themes of nature, environment and heritage using the treasures of the Cathedral and its significant Library and Archives collections as inspiration.
There will also be time within the residency to create your own response to Exeter Cathedral's building and treasures, including the 10th century poems and riddles of The Exeter Book. The Exeter Book has UNESCO Memory of the World status, signalling its "outstanding significance" to British and world history. Exeter itself is a UNESCO City of Literature and member of the Cities of Culture global network.
For more details please see our website: https://www.exeter-cathedral.org.uk/about-us/vacancies/ by 23.59 on the closing date.