Self-employed Advocate - NYAS
Devon
Variable Hours
£16 per hour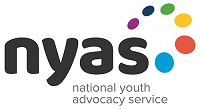 Location: home based but working across the county.
Job Term: Self Employed
We are recruiting self-employed advocates to provide independent and confidential advocacy on behalf of NYAS to children, young people and adults in a variety of settings such as children's homes, schools, secure units etc.
This includes advocates who will work solely with children and young people, as well as advocates who will solely support parents who are involved in Child Protection processes. Please state on your application form whether you would like to join our service to advocate for children and young people, or with parents.
Your role will enable them to ensure their voices are heard within decision-making processes that effect their lives. You will do this by listening to what they want and by informing them of their rights to get their wishes and feeling heard.
To be considered you must hold a relevant qualification and have significant experience of direct work with children, young people or adults in a related setting.
For more information, please view the attached contract delivery specification on our website.
To meet the requirements of the role you must live within the geographical area.
If you would like to discuss this opportunity prior to your application please contact Rob Elkins, Children & Families Services Coordinator by e-mailing rob.elkins@nyas.net
Note for candidates - when completing the application form, it is important that you refer to the person specification within the contract delivery specification and detail how you can evidence the criteria.
NB: As part of the recruitment process to become a Self-Employed Advocate with NYAS, all candidates who have been successfully interviewed and completed our safer recruitment process will be required to attend and complete accredited Advocacy training. This is a recognised qualification across this sector.
NYAS provides this training at a significantly reduced rate for self-employed advocates. Further details are discussed at interview.
NYAS operates robust safe procedures to ensure the protection of the children, young people and adults at risk we work with. To comply with NYAS's Safeguarding and Child Protection Policy candidates will be subject to an enhanced DBS check, references and a Digital Risk Assessment.
For further information and to apply please visit https://nyas.current-vacancies.com/Jobs/Advert/2738556?cid=1837
We reserve the right to close this vacancy early once we receive a high number of applications.